City Game Studio: a tycoon about game dev
City Game Studio v1.1, Ready to leave Early Access
---
Hello everyone!
I hope you are as excited as I\'m to see the release of City Game Studio just around the corner.

So without further ado I bring you the most recent features that come with the v1.1!

A terminal to cheat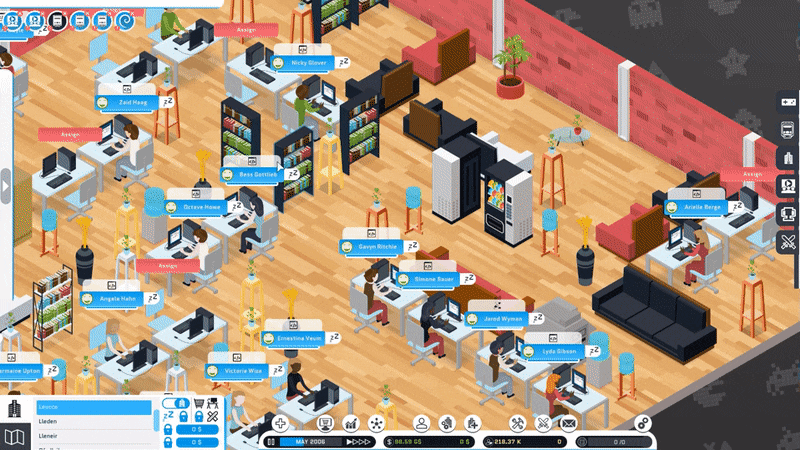 I think this is the most eagerly awaited feature. Cheating. You have to press F1, this opens a console. You can either click on the underlined texts or type them directly into the console. We begin with the help command, which lists the available commands. Next, use list-models to list the modifiable elements of the game. To get more information about a particular element, type help fanbase to get help for the element fanbase (this is only an example).
Market research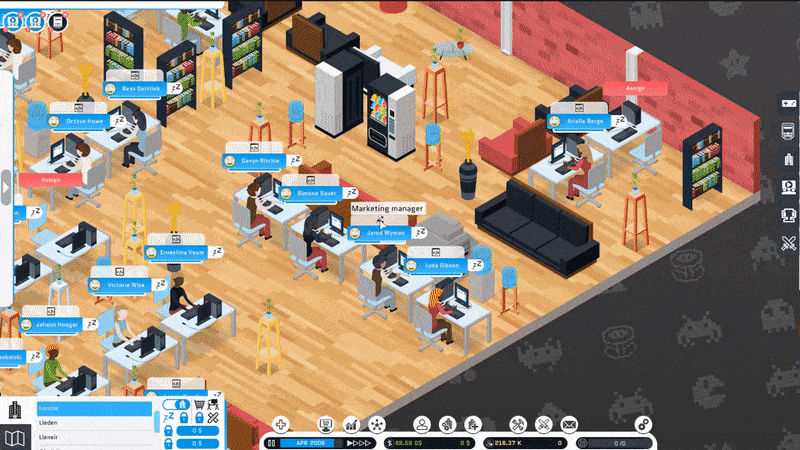 Marketing managers help you to better master a game genre or a game console. Given a certain investment of time and money, you get crucial information to create better games.

Just imagine what you could do if you were able to train your employees as well? Oh well, you don't have to be imaginative anymore because it is already possible to train your employees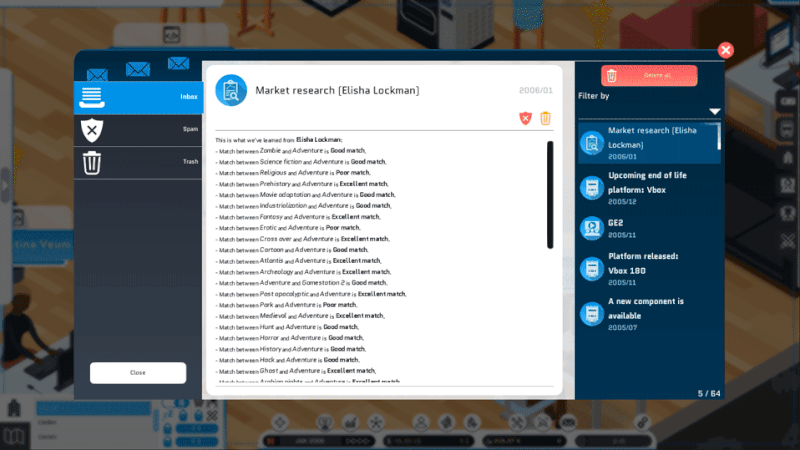 Train your employees to perfection

Prior to training employees you need a large financial budget to build a university that will house classrooms dedicated to the training of potential prodigies. Naturally this makes City Game Studio much easier, so this feature requires a lot of funding.

In short, as soon as the university is built, select the workers to train, type and duration of the training session, after 2 minutes it's done.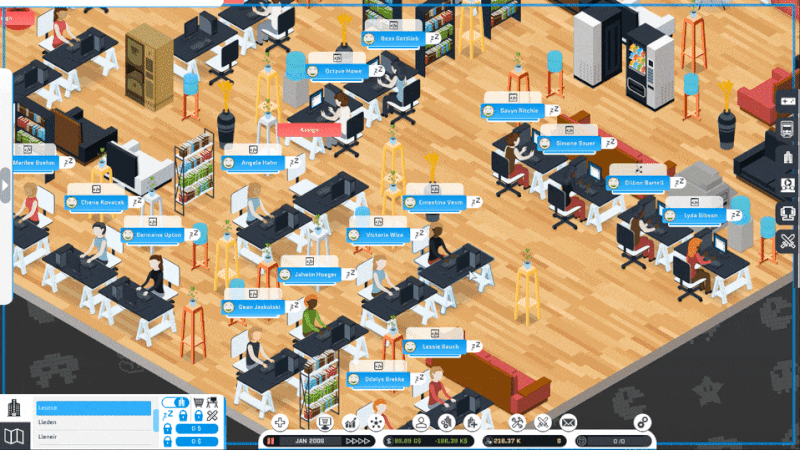 Shop overhaul to furnish studios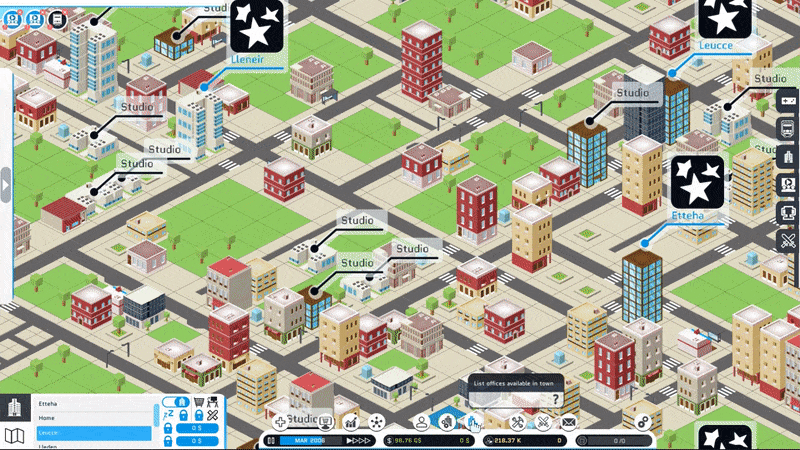 Interface has been enhanced to provide a more fun and accessible way to buy and furnish studios. For example, furnishing a sudio is easier because the furniture list is still displayed while placing the furniture. Also, there is a category system that is easier to navigate.

Other improvements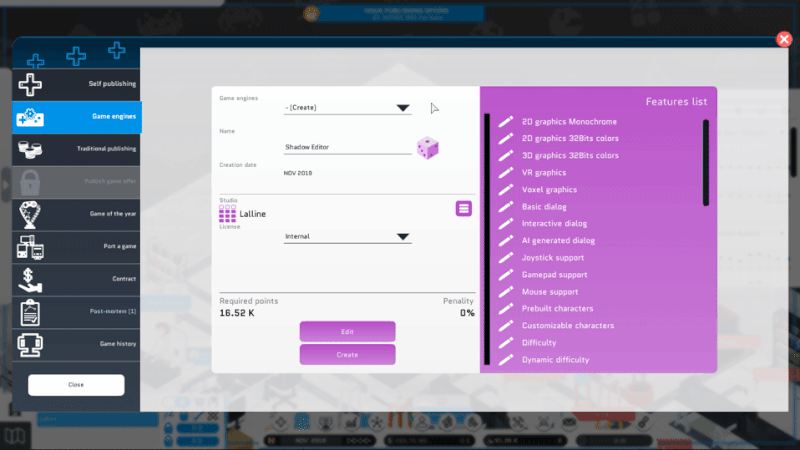 When you open City Game Studio for the first time you can be somewhat surprised. The game wants to be intuitive and easy to understand. Yet there was a little something missing, almost nothing, but here it is now. Tooltips that explain what's happenning, how to do things, or what to do.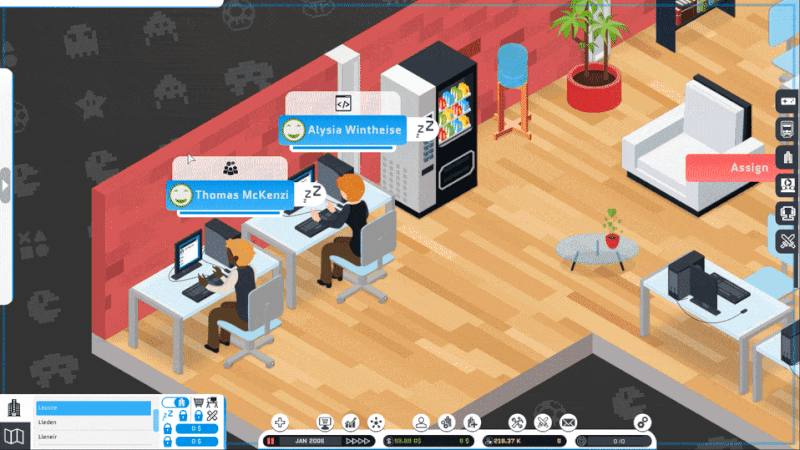 There are also other small changes that consist in adding links between panels. Instead of having to search opening different menus, you can switch from one menu to another if menus are linked together. For example by clicking on a human resources manager you can access the employee schedule. Or by clicking on an employee you can access the training panel. This will make you feel more comfortable and easier to navigate in City Game Studio, I'm sure.

That\'s it, this update is huge and contains a lot of additions, so I made it as simple as possible. If you want to know more about it, I invite you to read the Changelog which is below.

Have a great weekend,

Binogure xoxo

Changelog
Feature
Add in-game console, press F1 to toggle it once in game.

Add universities

New training: Generic training (Design/development/polish training)

New training: Specific training (only one of Design/development/polish training)

Mods: An event can now trigger another event

Market research: Marketing manager can run Marketing research
Misc
Add pagination to the top sales item

Add release date to the history panel for non-discontinued games

Add new studio type to buy

When buying a new studio it automatically open the shop

Improving the custom platform pricing spinbox

Game Engine: Add more visual feedback when updating a game engine

Console manufacturing costs red if it is not profitable (regarding console price)

Add Spam filter red color (to prevent too many spams)

Add a way to mark as spam a notification

Studio panel: Select all/Select nothing button

Autosave interval (2, 4, 8 and 16 minutes, disabled)

Add popups that explains how the game works

Platform: Added Skylight 11 and Linux Kernel 5+
Balancing
Fix match between adventure genre and Skylight 7

Studio size limitation

VBox series V: boost CPU/GPU capabilities

Skylight 11: Adjust market share

Gamestation 5: Adjust market share

Vbox series V: Adjust market share

Grantendo Swap: Adjust market share

Rework competitor (let them grow faster too)
Bugfix
Fix freeze when you release more than 10k games

Fix the gameport issue (cannot unselect a platform that has not been released yet).

Send the staff on holiday button is not reseting in the studio manager panel

Number of attended convention not updated

Custom console button not unlocked at the right time.

Game is freezing with a huge save game (over 70Mb)

Fix steam achievement (game score over 100)

Mod: Custom difficulty crashes

Unlocking game genre by spying didn\'t unlock any steam achievement

Uniq game genres were not automatically unlocked once discovered

Mod list: Sort mods by name is not working properly

Custom platform: Sell a negative number of unit (rare)
i18n
Improved zh translations(thanks to SteveThreenoon)

Improved ko translations (thanks to tomas966)
Get City Game Studio: a tycoon about game dev