City Game Studio: a tycoon about game dev
Hello everyone!
This is it, we're in business. City Game Studio is moving to version 1. For you who are just discovering City Game Studio you need to know that the journey began on 2019 when v0.12.0 was launched on Feb 21st.
Since then, City Game Studio has been showcased at prestigious events such as Montreal ComicCon 2019 and DreamHack 2019. All of this happened thanks to the Gameplay Space which helped me organizing playtest sessions, attending many conferences and other social events.
All those events made it possible for City Game Studio to reach maturity and indirectly to release version 1. But before speaking about the future of the game, first let's have a look at the content of this update.
Console overhaul
Creating a console is quite intuitive, but selling a console is a challenging task. The algorithm which calculates the sales of consoles has been completely revised, even if there are still tweaks to do, it is much more pleasant to build your own console now. Moreover you can manage a marketing campaign dedicated to your console. Be careful though, because a successful console can put you out of business if its selling price is lower than its manufacturing costs.
To inform you about the latest news, a new notification appears. It is about new components available for game consoles design. It includes a short message, with an image of the component concerned.
Interface revision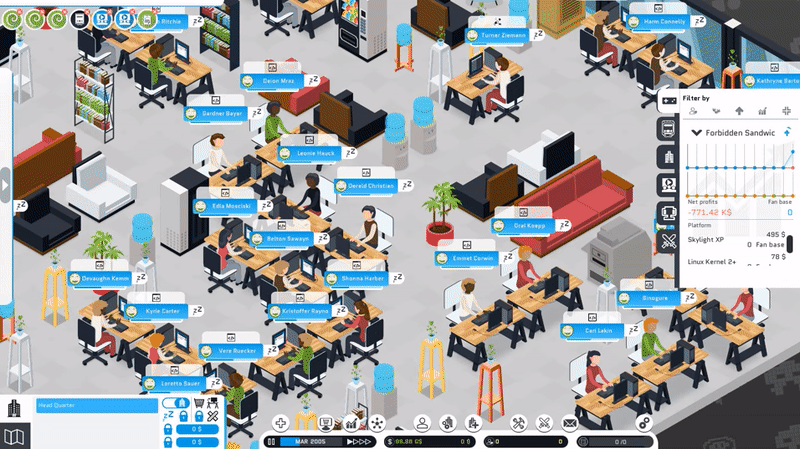 There is much to say about it. Firstly, the 1983 krash is really hard on you. So I made things a bit more clear by adding useful information to the post-mortems. Apart from that, I've added color codes and tooltips to distinguish the profitable consoles from the others. On top of that, I added an algorithm that automatically selects the profitable consoles instead of the ones that are affected by the crash of 1983. These welcome changes will help you publish profitable games.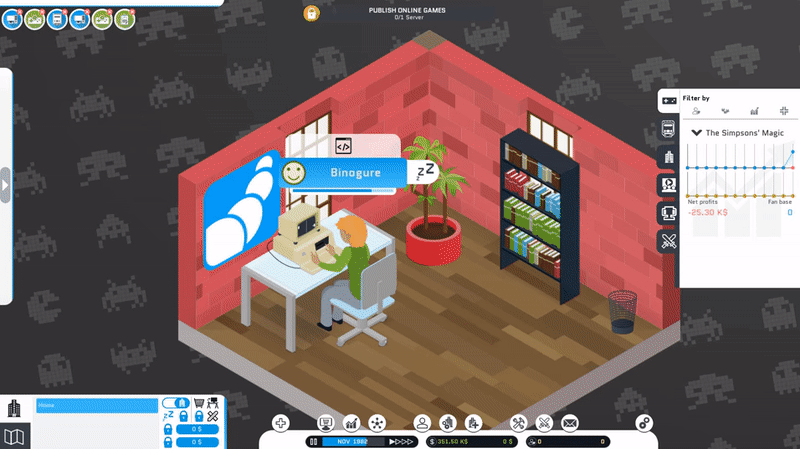 Post-mortems are important, and their content is even more important because it helps you understand how to make good games. That's why game reports also make a brief statement when you don't use all the capabilities of a console. Handy!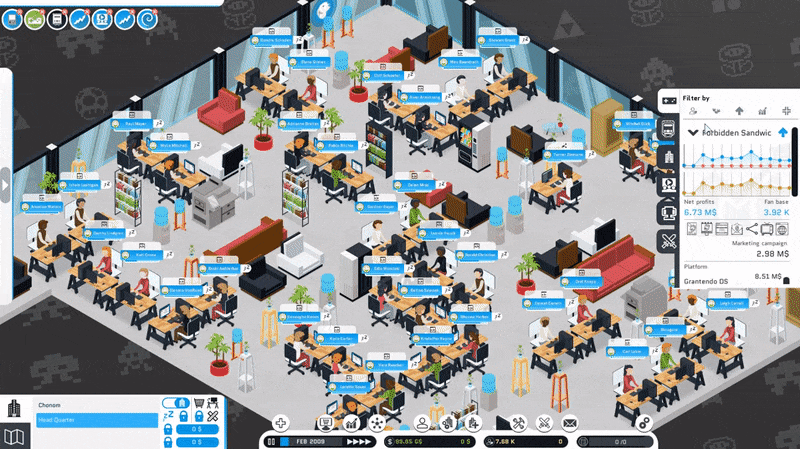 Since 2019, City Game Studio's interface has been revamped 3 times. Yet one panel had never been redone until today. This panel was the summary of the sales of a game when a game is withdrawn from the market. City Game Studio being a management game, I decided to put some statistics and accounting details. I hope you will like it!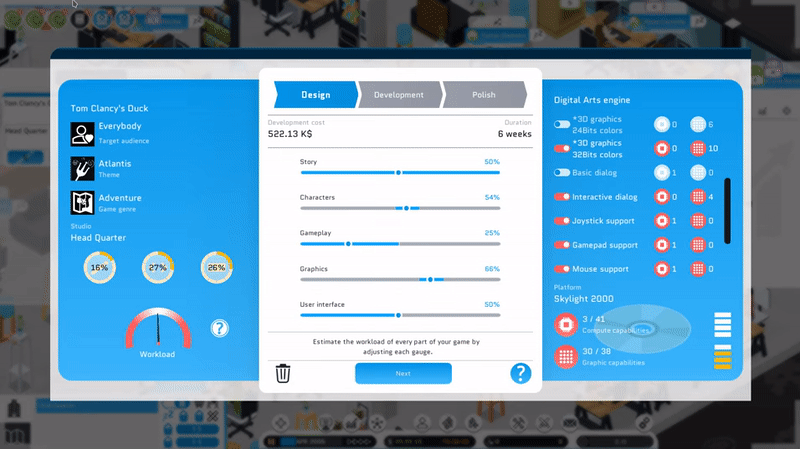 Many of you have been asking for it, and for a while already. It took me a while to set it up properly but you can browse your old creations while you develop new games. It's really convenient as it helps to better adjust the gauges when making games.
Miscellaneous changes
When you create your first console you like to publish many games to it. In order to make it more accessible, you can have several publishing offers at the same time. All it takes is a ton of money.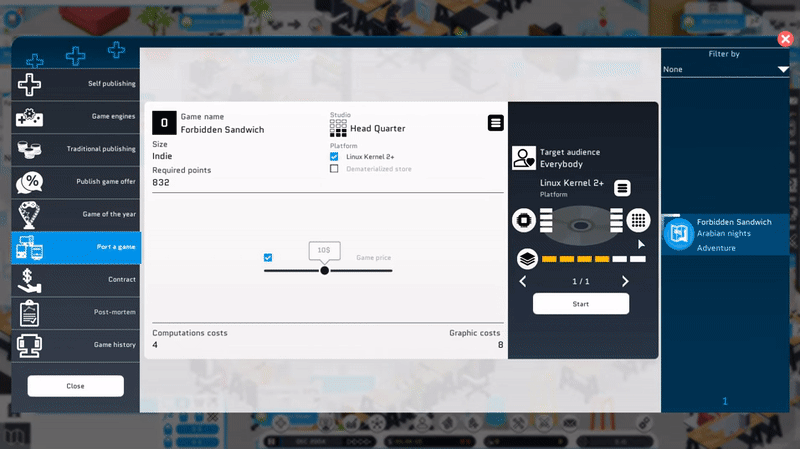 Many of you have also asked for this change. Being able to port a game to multiple consoles at the same time. So instead, I've implemented a system that lets you create a game port list. Gone are the long moments of selecting one by one the game consoles, now in a few clicks you can port your games across as many compatible and available platforms as you want.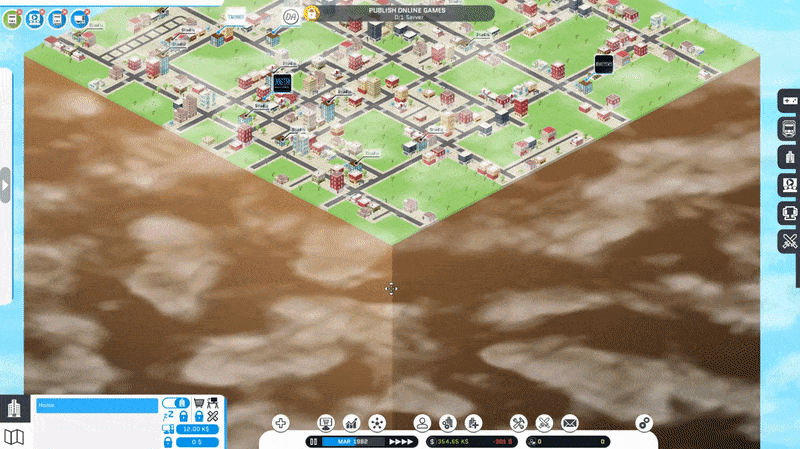 One last change, minor this time. It consists in adding a basement to the city map. It took me 5 minutes to do and I like the effect.
Closing words
I really hope that you enjoy this update, at least I had a lot of fun and I'm not hiding it from you, I also had to work hard on some features.
The first version is complete, and I' ve already started to work on the second one. The real question is when do I stop working on updates?I honestly don't know. I have another project in mind. For the moment I focus on City Game Studio while working on this new project on the side.
That's all for today, see you soon on the networks.
Twitter - Youtube - Reddit - Discord
Sincerely
Binogure
Changelog
Feature
Mod support: Platform manufacturing (add new components)
Platform manufacturing: the more it sells the lower the manufacturings costs are.
Platform manufacturing: add marketing campaigns
Platform manufacturing: can assign a marketing manager to boost sales
Platform manufacturing: add Steam achievements
Game engine: add Steam achievements
When you accept an exclusive offer, you lost the distribution right, so you cannot discontinue the game.
Rework the mortgage algorithm and add a tuto when you are not profitable for a long time
Gameport: queue several gameports
Competitors can buy each others
UI
Change cursor to a hand when something is click-able
Improve panel rendering
Custom platform: Improve labels
Custom platform: Add a discontinue panel
Custom-platform: Add catalog game list
Reset game filters if there is no game available (30 seconds delay)
Release button: When grayout out, explain why the game cannot be released
Game creation: Revamp the discontinue panels
Game creation: Add a popup to check the previous game
Game creation: Add game name while making the game
Game creation: Can unlock game genre from the kickoff panel
Market crash: Add more tooltip and unselect the default platform
Staff list: Add a gradient to the employee capacities
In dev panel: Add a "Release everything" button
In dev panel: Show the catalog size of custom consoles
Platform panel: Add informations about availability
Downscale menu, in dev panel, release panel, notifications panel
Misc
Custom platform: Rework the sale algorithm
Custom platform: Magazines don't color the platform
Custom platform: GOTYs don't count
Idle employee won't consume their energy anymore
Game port: Balance the game port score computation
Reset the default difficulty
Trade-publish offer: Limit has been removed, you can publish as many trade publishing offer as you wish
Custom platforms: Announce new component (notification)
Custom platforms: Announce manufacturing costs (notification)
Conventions: Can change the stand size while attending a convention
Leaderboards: Change the way the score is uploaded (you can send score even if you made an advanced game)
Custom platforms: Update the difficulty schema (impact mods)
Add launch option (`-output_latency`)
Worldmap: Add ground
Gameport: add pagination to the gameport panel (optimisation)
Post-mortem: add pagination to the post-mortem panel (optimisation)
Post-mortem: add more information to the game report
Bugfix
Custom platforms: Add missing translations
Custom platforms: No cartridge available before 1980
Custom platforms: Selecting a new component might not work properly
Mod support: Loading a mod for custom platforms doesn't work properly
Custom logo: No longer store the same logo twice
The game over panel won't break anymore
Loadgame: Fixed a random crash while loading a savegame (rare)
Linux: Crackling sound (updated Troubleshooting guide)
Fix scrollbar issues (freeze)
Random crash when entering a new game name
Fix font rendering issue
i18n
RU: Improve translations (Thanks to Riken and KamemaruTr and FolioNov9m)
KO: Improve translations (Thanks to LIMECAKE)
ZH: Improve translations (Thanks to zsh2401)
DE: Improve translations (Thanks to MichiShyGuy)
Get City Game Studio: a tycoon about game dev