City Game Studio: a tycoon about game dev
Hello everyone!
I'm glad to see you for this new update, which I hope you'll like as much as I do! There is a lot of content, and good content, let's have a look at it together!
Mods support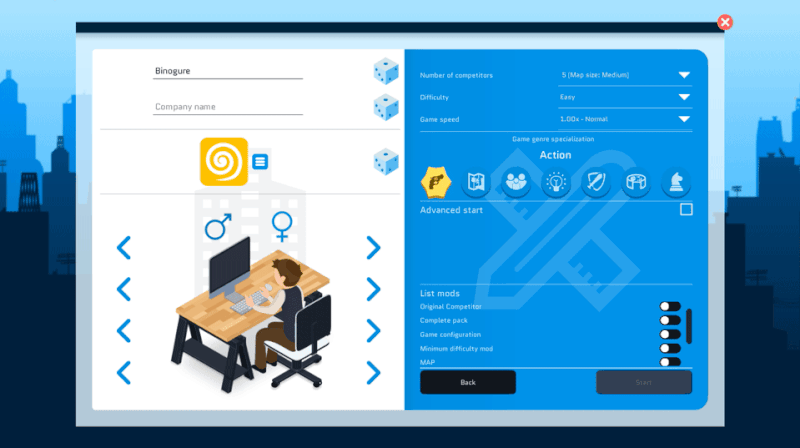 You have read correctly, you can create mods for City Game Studio. There are already a lot of them and you can already use them! That's really great.
For those of you who want to create your own mod, I've set up a tool that should make it easy for you. I call it the ModMaker, it allows you to create mods by filling out a form. For those who are more code-oriented, you can also create mods based on the documentation.
Mod support allows you to add and rename consoles, console manufacturers, indie companies and competitors. It also allows you to add new translations, new difficulties, new game speeds, new maps or new themes.
New consoles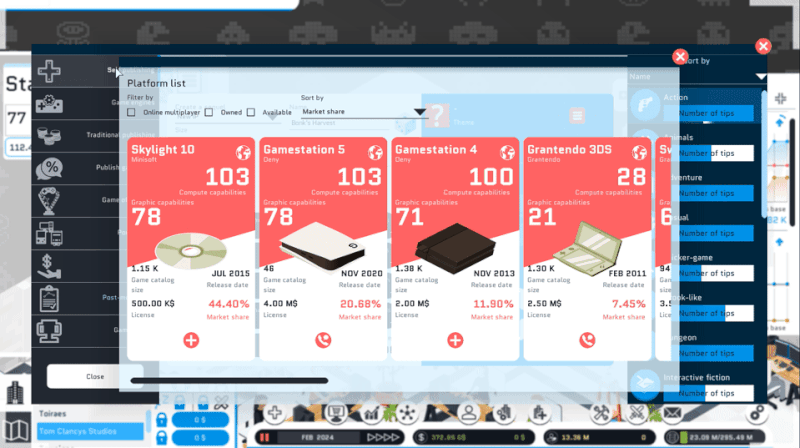 It's 2020, this wonderful year brings us a lot of new consoles. You will see appearing the Gamestation 5 of Deny as well as the VBox Series V of Minisoft. The most recent consoles have been adjusted with more recent data (which allows us to have a more balanced market share).
Other improvements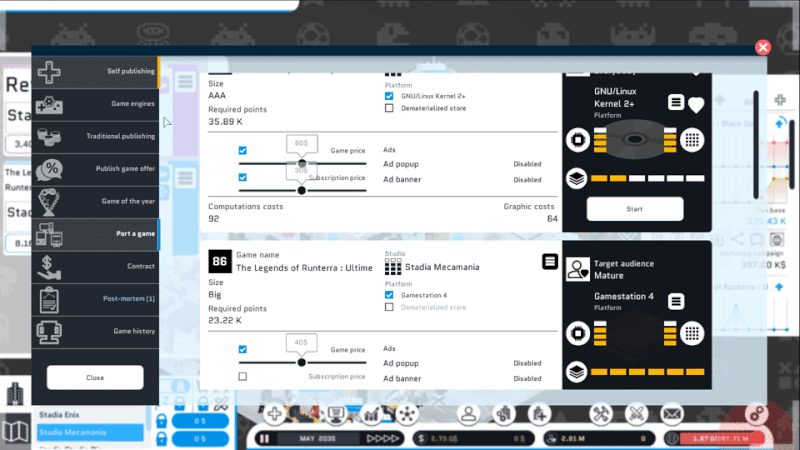 That's not all, I've also added JPG format support for logos, and also a better interface to navigate through the files. The game porting panel now gives you information on platform compatibility, which will help you know if porting will be profitable or not. Other improvements include being able to select all the features of a game engine at the time of its creation or being able to reduce all the details of the games on sale with a single click.
The final word
I haven't detailed all the features, improvements, optimizations and fixes here, but you can find them in the detail of changes (a little below). Be aware that there are many of them and that City Game Studio should better support big games (with more than 1000 employees).
Regarding Mods support, a version v0.32.1 is in preparation, and it will contain interesting features.
In short, I don't say more, I wish you an excellent game, enjoy this update, and see you soon for the next one!
xoxo
Binogure
Changelog
Feature
Add Mods uploader
Mod: Add/rename platforms
Mod: Add/rename concurrents
Mod: Add/rename manufacturers

Mod: Add theme

Mod: Add translations

Mod: Add/rename indie companies

Mod: Add custom difficulty

Mod: Add custom game speed

Mod: Add custom map size

Mod tool maker

Mod dependencies

Platforms: Added Gamestation 5 and VBox series V
UI
Improve UI for file dialog

Add JPG/JPEG format for company logos

Add a hand pointer for the dialogs and clickable texts

Add speed to the game speed list

Game engine: Add a select all button and better tooltips

Reduce all the chart of the release panel with a single button

Platform compatibility feedback
Bugfixes
Design icon was dispayed instead of the development icon

Selling an item was not giving you back the money

Some notifications were not sorted correctly

OSX: Crash when negotiating with competitors

Several minor fixes
Optimizations
Improved stdout handling (Windows only)

Graphic settings: Add auto adjustement option

Optimizations for very large companies
Balancing
Coffee machines and vending machines have monthly costs (750$ month)
Get City Game Studio: a tycoon about game dev