City Game Studio: a tycoon about game dev
1983 crash, negotiations with console manufacturers
---
Hello world!
4 months have passed since the last update, and I apologize for the delay.
Usually I publish one major update per month or every two months on average.
However these last months have not been like the others, for those who follow me on <url=Twitter or who are on the <url=Discord server, as you already know, I've moved to another country. that is why the development of City Game Studio slowed down.</url=</url=
The good news is that I was able to resume the development. Well it's end-of July already, and as promised here is the 0.31.0 update. So today on the menu we have...
Negotiating with the manufacturers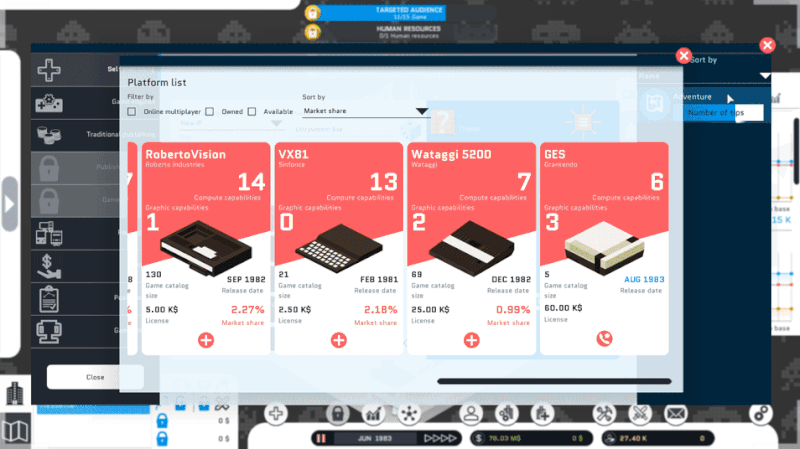 Previously unlocking a game console was straightforward. Simply click on the console and it was all done. From now on, you'll have to negotiate with the manufacturer. The more you work with a manufacturer, the easier the negotiations will be. Of course, the opposite is also true.
The crash of 1983

The first few years in City Game Studio are incredibly easy. To reflect reality, I introduced the video game crisis of 1983. It impacts the first two generations of consoles, which means that from 1983 on, to make profit you'd have to negotiate with a manufacturer.
The 1983 crash has no exact date, it can start in January as well as in December. This suggestion made by Zarys helps to extend the life of the game.
Developing games on upcoming consoles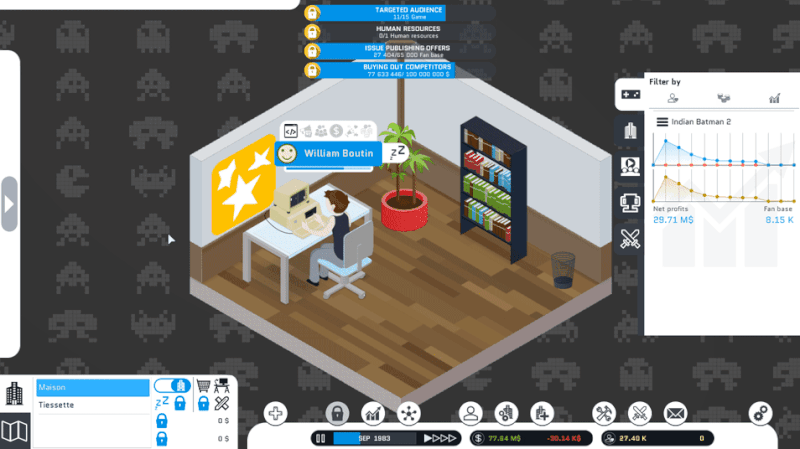 Many of you have requested this feature, and now you can develop games for consoles that are not yet available. This involves negotiating with console manufacturers, and it makes City Game Studio much more lively.
Choose the release date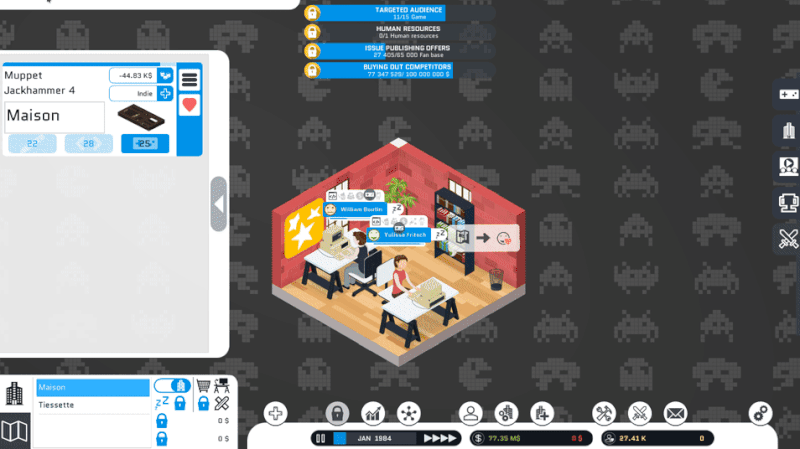 This is another request from the community. And from now on you will be able to choose when to publish a game. This comes in handy when you want to synchronize game ports. And it allows you to better manage the marketing campaign.
Now you can start porting a non-released game. However, you can develop game port only for ready games.
There are still many other changes, and for all of them you can either launch the game or read the full list of changes.
I hope you like it, feel free to join our <url=Discord to talk about it with us!</url=
Cheers
Binogure
Changelog
QOL
<list>IAP: You can now have 16 microtransactions items</list>
<list>Employee details: Add a button to withdraw an employee</list>
<list>Top sales items: Competitors games that are using your game engine are green</list>
<list>Server capacity: Doubled the servers capacities</list>
<list>Add the platform type to the platform panel</list>
Feature
<list>Platform exclusivity (manufacturer negotiation)</list>
<list>Video game krach of 1983</list>
<list>Add new console: Handboy Advance</list>
<list>Balance the Gamestation 2 (boot CPU capacities)</list>
<list>Balance the difficulty</list>
<list>Port a non-published game</list>
<list>Select the release date for a game</list>
Optimizations
<list>Creating a new game won't take more than 1 second when having more than 1k employees</list>
<list>Server capacity updates have been optimized (can support more then 30 studios)</list>
<list>Gameport/Game/GOTY/Contracts/DLC/update have been optimized (can support more than 1k employees)</list>
<list>Number of particles limited to 10 per employee (no more performance drop on big studios)</list>
<list>Removing useless cast</list>
Bugfix
<list>Contracts: polish and development icons are swapped</list>
<list>Employee details: Polish/Development icons are the same</list>
<list>Array with accent are not sorted correctly</list>
<list>Adjust game cost and employee productivity to the game speed (slow/very slow)</list>
<list>Game engine: can develop the same feature twice</list>
i18n
<list>Improve de translations (thanks to ekim1991)</list>
<list>Improve es translations (thanks to Redxpert)</list><list></list>
<list>Improve pt-br translations (thanks to menguele)</list>
Get City Game Studio: a tycoon about game dev