City Game Studio: a tycoon about game dev
Sales, online games, updates and DLC
---
Hello world!
City Game Studio is one year old. It's been released a year ago, and since then I kept working on it to deliver the best development tycoon game ever. And today, oh today, we are going to talk about the v0.29.0.
Joint studio project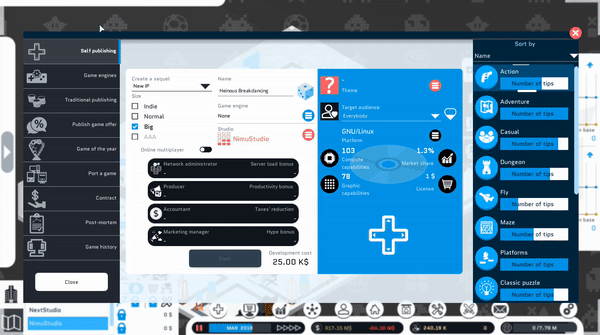 Let's say you want to make a AAA game. Now, you need at least 100 employees with one producer. How can you fit 101 employees in a single studio? You can't! BUT, you can have several studios working on a single project. That's right, you can have 10 studios to work on a game, or on a game port, or on a contract, or on a digital store's feature...
Game update (DLC?)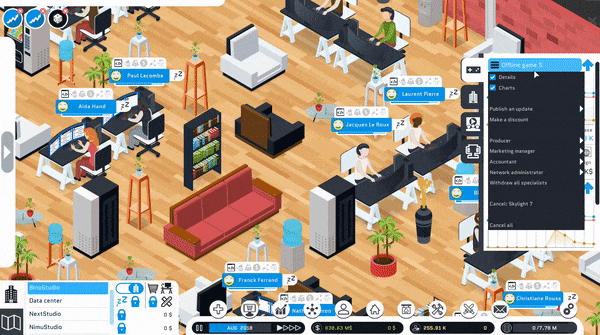 So, you've published a AAA game. You are swimming in a pool of money, but you want more! Let's publish an update. Updating a game will boost sales and fans (more money indeed).
Do you want moar money?
Seriously, publishing a free update is already great, but I get you. You want more, so let's talk about Paid updates. A paid update is a DLC. Publishing a DLC makes more money than an update, but your fanbase won't be any bigger. So the choice is yours.
How to boost sales of a game?
DISCOUNT! Discount your game of up to 95%. Nothing like discount to gather a maximum of fan around your projects!
Other improvements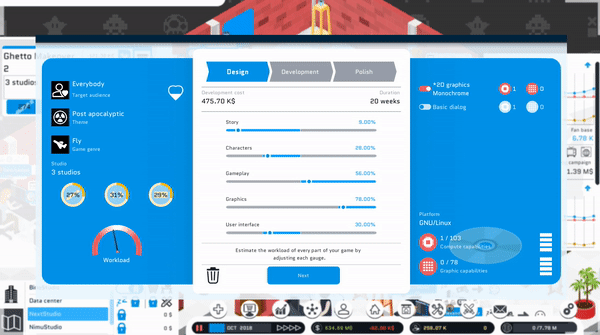 The game creation panel has changed. The workload currently provides better feedback, and it is more intuitive to make a game.
Advanced games have been reworked too. You can select the starting money and you can randomize the game creation sliders.
If you want to know all the changes, you can either read the Changelog or just launch City Game Studio and start playing.
As you can see, there is an update per month on average. I want to keep it that way because it is easier to me to balance and test the game between 2 updates.
I hope you will ike this update, and join us on discord to talk about it!
Changelog
Features
Added game updates. Publishing an update improve the sales of a game, but not its score
Added DLC updates. Publishing a DLC make more money regarding the amount of the original games has been sold.
Added DLC/Update schedules to the HR management schedule
Advanced start: You can enter the exact amount of money you want to start with
Make a discount for published games
Randomize games' sliders (optional)
Improve online games. Can set a price and a subscription price
QOL
Store will now show everysingle items, even the locked one, so you will be able to known when the servers are becoming available
Improving the history panel by adding more tooltips
Added a dynamic tooltip to the in dev panel hype container
Added a game engine name generator
GOTY panel: easier to select a game
Auto-organize conventions
Improve the release-game panel tooltip (price + discount is now shown and updated in real time)
Sort platforms by release date
Add Select All button to the studio panel
Add tooltips to the platform release panel
Add CPU/GPU to the game engine panels (tooltip)
Improved workload during game creation
No default theme for game creation
i18n
Improved zh translations (Thanks to Mochongli)
Improved ru translations (Thanks to Riken and IraqLobster34)
Improved fr translations (Thanks to kiriflo)
Misc
Spying on a competitor has a new steam achievement
Spying on a competitor has a better congratulation panel
Cracking a game has a new steam achievement
Cracking a game has a better congratulation panel
Optimizing staff management
Rework the studio panel
Add animation to the studio capacities
Bugfix
Gameport sales don't take the marketing campaign into account
Set the default currency to 1 000 M$ for advanced start
released-game panel was not properly refreshing the game ports
Fix random crash
Cannot release a GOTY
Can port a game on an non-released console
Improve game engine and game publishing panels rendering
Get City Game Studio: a tycoon about game dev