City Game Studio: a tycoon about game dev
Competitors games engines
---
Happy New Year everyone!
The 0.28.1 version is, despite its name, a major version.
Rent game engines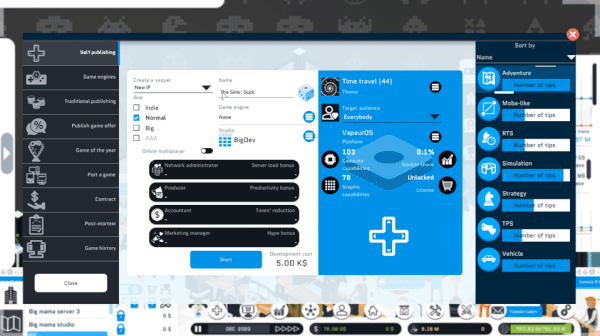 You can now make money thanks to your game engines or make them FOSS! (I'll let you find out what impact it has, you'll see how cool it is). And now you can also rent your competitors' game engines! This is the little extra that should make you happy!
Better UI (another one)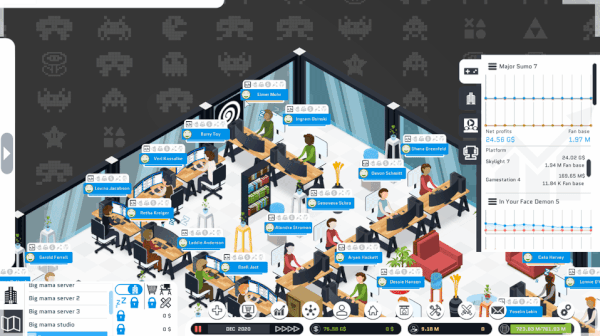 The UI has been slightly revised. Indeed with version v0.28.0, the game creation panels had been redone. To make everything consistent with the latest graphic overhaul, the rest of the game has also been revised.

Studios optimization


The v0.28.1 also brings a lot of optimization. Savegames are 50% lighter and loading them is ~25% faster. To this must be added the studios optimization. Large studios tended to be CPU intensive, so after a lot of work, even the largest studios should no longer blow your fans.
Changelog
Game engine
Manage the game engine calendar for staff
Open source game engine gives you money or new free features
Can rent a competitor's engine
Competitors can use your engines if they are valuable / commendable
Competitors make their own engines
Add the engine name to the best game sales tooltips
Rework the engine selection panel
Buying a competitor gives you their engine
Miscellaneous
Sort items in the shop by type
Add sound effects to multiple buttons (missing)
Attach / remove specialists from released games
Add Unique to the kinds of games that unlock success
Add the unit sold to the history panel (this is a tooltip)
Add animations to the price slider
Reduce the font size of the studio panel
Optimize backups (should save up to 80% of the disk)
Optimize studio rendering (use less CPU than before)
Add a button to fix everything (coffee makers)
Optimize the studios (should be able to increase the size of the studios)
Add the release date to the released games
Add FX sounds to the marketing panel
Increased server capacities: + 50%

Bugfixes
The buttons on the server do not display correctly once they appear. Need to reload the game to get it right
Can buy a competitor even if it is not unlocked
Selling a studio with furniture doesn't give you the right amount of money
A competitor has an incorrect engine royalty value (it is zero)
Certain competing engines may have a "zero" charge
Cannot buy servers automatically
Unable to attend conventions manually
Unable to upgrade servers
Can wear a game on the same paltforms several times
Unable to upgrade a server
Get City Game Studio: a tycoon about game dev